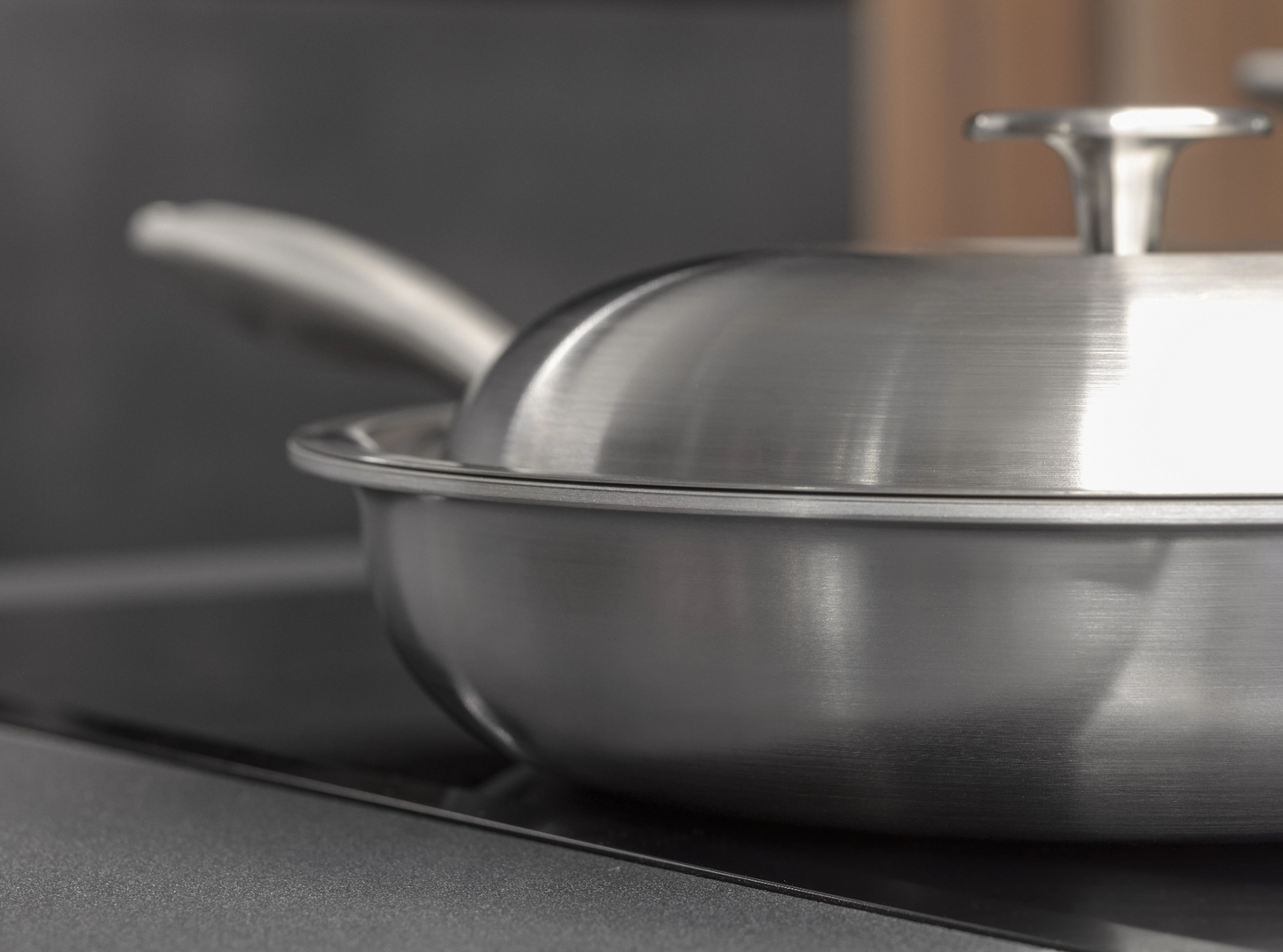 Tough, resistant, light and biocompatible: these are just some of the characteristics of titanium that make it a very special and popular material in various industries.
One of these is the kitchen world, where performance goes hand in hand with food safety.
If its lightness made it appreciated by those who love camping and need pots and pans that weigh little and are easy to take on holiday, today titanium has gained its place in the kitchen, starting with professional ones where cooks need high quality tools, made to last over time and ensure high performance without affecting the properties of food.
Why Titanium is good for cooking
Titanium is particularly suitable for cooking. This is due to a number of characteristics that set it apart from other materials. 
Firstly, titanium is an inert material. This means that it doesn't interact with food, so it doesn't change its taste or properties. This means that cooking with titanium allows you to experience the food at its best, to taste its true flavour and to preserve all the nutrients it contains untouched. 
The fact that it does not react means that titanium is also hypoallergenic and free of toxic substances, making it ideal for sensitive people or those who want to make sure they are cooking in the healthiest way possible. 
Finally, titanium combines strength with lightness, meaning it can be as durable as stainless steel but at half the weight. This makes it perfect for making strong yet lightweight cookware that can be used for many years.
Cooking with Titanium Cookware
The cooking surface of titanium pots and pans has a slight natural non-stick effect due to the titanium. Although this effect is superior to that of stainless steel, it is not the same as that of PTFE pans because it is completely free of any non-stick coating or treatment.
To take full advantage of the non-stick effect of titanium pans, the secret is to learn how to dose the temperature correctly during the different stages of cooking.
Here are a few simple tips to help you get to know your titanium pans:
- start with wet cooking (vegetables and stewed meats, chicken cacciatore, risotto all'onda, etc.) and gradually move on to more delicate cooking (eggs, omelettes);
- to cook eggs and meats such as hamburgers and steaks, heat the frying pan to a medium temperature and put the food down only when it is hot; cook the meat on a medium heat and the eggs on a low heat;
- for very lean meats (especially hamburgers) or eggs, grease the surface of the pan with a little oil or butter.
Take your time to gain confidence with your cookware, enjoy the process and you'll soon be reaping the benefits of cooking with titanium.
 Zero-Toxic Titanium Cookware by Due Buoi
Due Buoi Zero-Toxic titanium cookware range is made in collaboration with Tritania, a specialized brand with its own factory that only produces titanium cookware. This allows us to guarantee our cookware range is top quality, because it is made by professionals with a deep knowledge of titanium.
In fact, all of our titanium pots and pans are zero-toxic because they are free of nickel and other substances that are potentially harmful to health.
Our range of products includes pots and pans of various diameters:
And to
complete your cooking set
, take a look at our collections of
stainless steel
kitchen spatulas
and
professional
Olimpo kitchen knives
made with N690 Böhler Stainless Steel.